Kat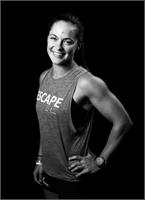 Kat found her passion for group fitness 8 years ago, since then it has been full steam ahead instructing a wide array of classes. Being a Personal Trainer, Kat takes health and fitness seriously but understand the need to make fitness fun to ensure people keep coming back. When Kat isn't in the cycle studio, you'll find her competing in running events, triathlons or training for her next ironman!
Kat instructs the following:



It's your turn to be the celebrity in town as you show off your paparazzi-worthy cycle skills. Not only is there lots to look at along the way, but there is also a serious workout to be had with awesome speed phases interspersed with strength components. What more could you want than to escape to Santa Monica for sunset?!
Muscle beach we're on our way...watch out!




Nobody gets the blood pumping in a spin room better than Avicii and Calvin. These two will light a fire under your pedals and push you harder to conquer three peaks and sweat your way through ten gripping destinations across the globe to a rewarding finish at the end of the world!